Jim Wonnacott
Music Director

Larry Patch Paciorek
Managing Director & CFO
216-524-BAND



Ron Davis
Marketing Director
216-244-0646

Board of Directors
Ron Davis
Don Day
Doug Day
George Ellis
Larry Patch Paciorek
Joe Trzcinski
Jim Wonnacott
To make a TAX-DEDUCTIBLE
donation, please
make your check
payable to:
CLEVELAND TOPS
SWINGBAND FOUNDATION
mail to:

PO Box 31666
Cleveland, OH 44131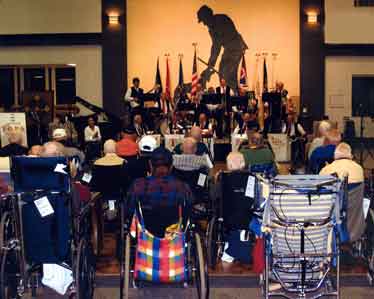 TOPS performs at the Ohio Veterans Home in Sandusky.

Home | Performances | Calendar | TOPS News | Contact Us | About Us

Endorsements | Musician Profiles | Recordings | Youth Outreach | Booking Info

Jim Wonnacott
Music Director
TOPS BAND PERSONNEL
SAXOPHONES
Ken Mehalko
Mark DiSanto
Larry Patch
Rudy Vincent
Dick Ingersoll
TRUMPETS
Jim Wonnacott
Mike Galloway
Frank Cosenza
Jim Anastasi
TROMBONES
Bruce Lehtinen
Ralph Joseph
George Ellis
Gary Twining
RHYTHM
Doug Day, piano
Don Day, bass
George Kiteley, drums
VOCALISTS
Ron Davis
Ruth Griebel
Larry Patch
Next for the band:

6/25 - Faifax Place, 2:30-3:30 p.m.
6/27 - Harvard Community Center 11AM-12.
6/29 - Independence Village of Avon Lake, 12:30-1:30.


TOPS is on YouTube! Click the link to see our professional video produced by the Cuyahoga Arts and Culture Foundation.

Download June 20th update



Site updated 6/24/19

at 3:45 p.m.
Recordings - We now have a total of eight CDs available, and you can order online.
Our "Spotlight" Series showcases each of
our fine vocalists: Ron Davis,
Larry Patch, Ruth Griebel, and Betsy Guy (

D

) More...
TOPS has new friends at Kenston intermediate School... More...

TOPS is supported by:

Cuyahoga Arts and Culture | The Ohio Arts Council
The McGregor Foundation
The National Endowment for the Arts

and Many Generous Individuals. We are a 501(c)3 Non-Profit Foundation

Our Foundation support is important but unfortunately does not cover all our expenses. If you would like to help support our mission in the form of a TAX-DEDUCTIBLE monetary donation, please make your check payable to: CLEVELAND TOPS SWINGBAND FOUNDATION and mail to:
PO Box 31666, Cleveland, OH 44131.

Sorry, we are unable to offer credit card service at this time..
---
Contacts:
Jim Wonnacott: E-mail Jim
Ron Davis: 216-244-0646 E-mail Ron
Larry Patch Paciorek: 216-524-BAND E-mail Larry
© 2005 Cleveland TOPS Swingband Foundation
Site design by Jim Wonnacott
Contact Webmaster